People always wonder what makes a car "better" than others, what makes a car make the hair on the back of your neck stand on end or makes you get the chills when you hear it drive by.  The final answer is rather simple…the car has to talk to you.  However easy that may seem, arriving at this end goal can be difficult to say the least.  Which is why there is no magic recipe to follow, no assembly instructions to guide engineers and designers, this is a guessing game of buyers' desires where some manufacturers fall short and others excel.  Despite the subjective nature of making a car desirable to us car-crazed individuals, there are a few things that most petrol-heads can agree are necessary ingredients in the sports car casserole.
Throttle response is paramount to making a car engaging.  Having to step on the loud pedal and wait……….. gets really tedious when you are trying to carve up a canyon.  A well sorted throttle makes a driver feel like their right foot is connected directly to the engine, the tires begging for traction while the tail kicks loose just enough to turn your knuckles white for a second.  Without this, a car feels like a mildly depressed sloth that hasn't had its coffee. 
The fingers are one of the more nerve-filled extremities on the body and as a result, we can gather and feel a tremendous amount through them.  Because of this, effective communication of the front wheels through the steering wheel is crucial to making a driver feel like they are a part of the car.  If you've ever driven a big, luxo-barge type SUV or sedan, a numb steering wheel that disconnects driver from road is commonplace, this type of vehicle being aimed specifically at people who don't care about going fast.  Conversely, a steering system that makes a driver feel like the front wheels are 6 inches from their hands away is one of the most sought-after traits of good sports cars.  A well-weighted (not over-boosted) hydraulic system is most common nowadays, but electric systems are starting to take their place. Don't throw a fit just yet, fellow gearheads, because according to most reviews, they still don't have the perfect feel like their tried-and-true hydraulic ancestors, but who knows what the next few years will hold?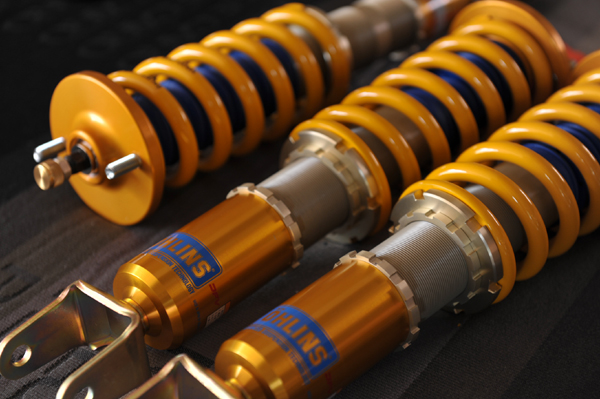 Striking a balance between a comfortable ride and a strong showing at a track is one of the toughest challenges a car manufacturer can face.  On one hand, you don't want the car to punish the driver too much with a bouncy, unpredictable, and unsettled ride but on the other hand, you don't want to produce a car that rides like a 1950's Cadillac.  The 1% of enthusiast buyers out there will argue that no car can be too punishing and that dedicated track cars are always going to be better at going fast in all situations, and they're right (for the most part).  But for those of us that live in the real world, a fast car has to feel balanced in all situations whether it be a back-road bomb to grab some milk or a track day weekend at Lime Rock.  Achieving this feeling of stability at all speeds while simultaneously giving the car the ability to communicate exactly what all 4 corners  are doing is nothing short of automotive wizardry.
Aural inspiration can be hard to find these days, which indicates that we've arrive at one of the more subjective parts of this equation…noise.  Most car enthusiasts will admit that a well-tuned exhaust note is crucial to the full enjoyment of a drive, and most car enthusiasts are right.  However, getting them all to agree on one particular exhaust sound is like trying to get everyone to agree to a universal favorite color….ain't goin' happen.  Some prefer the banshee wail of a Porsche flat 6 climbing to 7k rpms where others prefer to enjoy the deep bass of an AMG V8 starting a small earthquake, there's no wrong answer here.  However, the need for a core-chilling, grin-inducing soundtrack to accompany a slow hairpin exit is an almost universally accepted notion amongst drivers.  A car sound that gives you goosebumps is more likely to get a gazillion hits on YouTube than one that sounds like a lawnmower, that's a fact.     
While this list changes depending on an individual's tastes, enthusiasts can generally agree that the above aspects are major contributors to the fun factor of a car.  Feel free to comment with your own additions if you think there are some other parts we're missing.