If you've been paying any attention lately, you've likely heard the buzz surrounding new versions of the Subaru BRZ and STI that are coming out.   Well Subaru has finally released images of the STI Type RA (Record Attempt) and BRZ tS (tuned by STI) and, simply put, they look menacing.
Thanks to new pistons, cold air intake, exhaust and a retuned ECU, the RA will get a slight bump to 310 hp (up from the standard 305).  A different 3rd gear ratio and removal of the spare tire make the car feel lighter and nimbler than previous years.  19″ BBS wheels wearing some sticky 245 section Yokohama tires round out the exterior package alongside some carbon fiber aero and subtle visual clues to let onlookers know this is not a standard STI.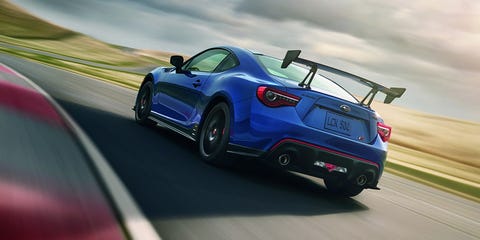 The BRZ tS gets a host of suspension work and chassis stiffening.  Sachs dampers and coil springs on all 4 corners coupled with V-bracing up front will undoubtedly make this an apex-slayer to the utmost degree.  Add some lightweight 18″ wheels and some sticky 215 section tires in place of the old Prius-sized pizza cutters and you have a recipe for a knife-edge vehicle that will probably be quite happy at the road course.
Visual updates will be limited to some carbon fiber aero bits and some well-bolstered seats inside the cabin, but then again, it's all about the go and not the show here.
We look forward to the release of pricing and detailed specs of these two new track-focused, pavement-hungry animals from the mad scientists inside Subaru's STI division.  They are expected to go on sale in early 2018 and well frankly, that can't come soon enough!